On May 17, 1909, the Western Pacific applied for a permit from the city of Oakland to build a passenger Depot at 3rd and Washington Streets.
The permit shows W. H. Mohr as the architect, with a value of $36,045.00 plus $10,000.00 for further improvements in and around the building. Mr. Mohr specialized in the Mission Revival style of depots. The depots for the larger towns along the Western Pacific are of the Mission style. It appears the design for Oakland was changed before construction was started.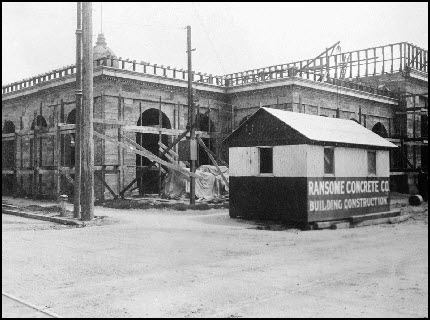 My research has turned up conflicting information as to who actually designed the Depot. The Oakland Tribune lists both Willis Polk and the D. H. Burnham Co. of Chicago as the architects. I have found a 1909, elevation plan that shows the Romanesque style exterior elevations. This plan states, "All interior arrangements as shown on the original plan, to apply to this plan". This would suggest a revision of the original plan.
The confusion between Willis Polk and the Burnham Co. can be explained by the fact that Willis represented the Burnham Co. in the West until the death of Burnham. Then Willis worked under the Willis Polk name. Interestingly I have found designs for the WP Sacramento Depot by both the Burnham Co. and Polk's Company. And they are on the Mission style when both companies were known for their work in the Romanesque style used at the Oakland depot. I have found no evidence Mr. Mohr worked for the Burnham or Polk firms.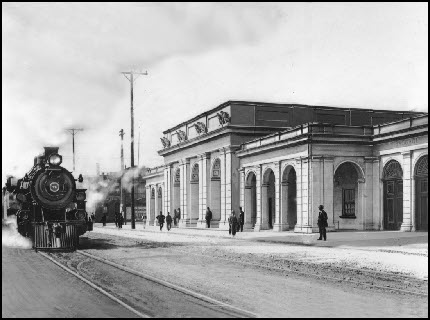 The Depot was built by the Ransome Co. of Oakland. This company is still in existence. Mr. Ransome held many patents, one was for reinforcing steel used in concrete construction. The Ransome Co. built the first reinforced concrete industrial building in the United States. This building was for the Borax Co. in Alameda. Ransome also built the first concrete reinforced arch bridge in the USA, located in Golden Gate Park.
The last scheduled train to use the Depot was in March of 1970 when the California Zephyr service was discontinued. The Depot was sold in 1972 for $135,000.00 and a demolition permit was applied for in 1974. This permit was held up and a Historical Commission was formed to review such projects. On June 13, 1974, the Depot was designated Oakland Landmark #1, thus saving the depot.
I have written a fairly extensive history of the Depot titled "History of the Western Pacific Depot, 3rd and Washington Streets, Oakland California". This can be found in the History Room of the Oakland Public Library and in the Environmental Library at the University of Berkeley. The depot is also covered in my book "Western Pacific Depots And Stations ".